Home » Archives for November 2012
November 30, 2012
November 29, 2012
November 21, 2012
Shakhtar Donetsk striker Luiz Adriano of Brazil caused a striking controversy which shadowed yesterday's UEFA Champions League matchday, when he flouted Fair Play scoring a goal directly after a drop ball that was actually to be given to the Danish side FC Nordsjaelland.


French official Antony Gautier had to accept the goal and attempted to reconcile both sides after this scandale. The officials team's astonishment was furthermore displayed in the fact that AR2 Frédéric Cano stopped running for a moment, probably being irritated about what was going on.
UEFA has already announced to commence an investigation against the Brazilian forward for having brought the principles of conduct. The case will be tried at 27 November 2012.
One cannot describe the circumstances more appropiately than Nordsjaelland's manager Laursen did, who hoped that his "children [had already been] sleeping when this goal was scored".

Luiz Adriano has been banned for one match applying to next week's decisive encounter between Shakhtar and Juventus. The reason was officially called "violation of the principles of conduct".
Continue Reading...
November 17, 2012
November 15, 2012
Despite all those challenges you encounter as a referee on the pitch, that is connected with a high level of responsibility and formation of your character, a further significant reason to become a referee certainly is that you are an immediate part of the game, which allows you to follow goals like that closer than everybody else out there, a goal of which you dream in your smartest dreams and that should be honoured with kind of award like "Best Goal of the Century" if you ask me.
I am envious of Frank Andas and Svein Oddvar Moen, the assistant referee and referee in the match between Sweden and England.
Continue Reading...
November 10, 2012
After all the justified forms of criticism that was widely issued during and after the main UEFA event of this year, the 2012 European Championship held in Poland and Ukraine that will probably and chiefly stay in everybody's mind - when reflecting this tournament's refereeing - for the non-given goal in the match between Ukraine and England despite the attendance of an additional assistant referee, we may constitute that the majority of the performances shown during the first four matchdays of this UEFA Champions League season have been very satisfactory.
Matchday 4 in a nutshell
Although it is surely quite arduous to ensure a sufficient overview of all the 16 clashes, I will try to emphasize the most significant decisions of the last matchday.
Each relevant scene will be explained with references to the point of time when they start or occur in the embedded videos (integrated into the text by brackets). You can either watch the video first to make sure you know what I am gonna talk about and to form an own opinion, or you can first read the analysis and go through the video by scene. It's upon you.

Remark: Due to copyright infringements, dailymotion's videos have been removed.
Continue Reading...
November 7, 2012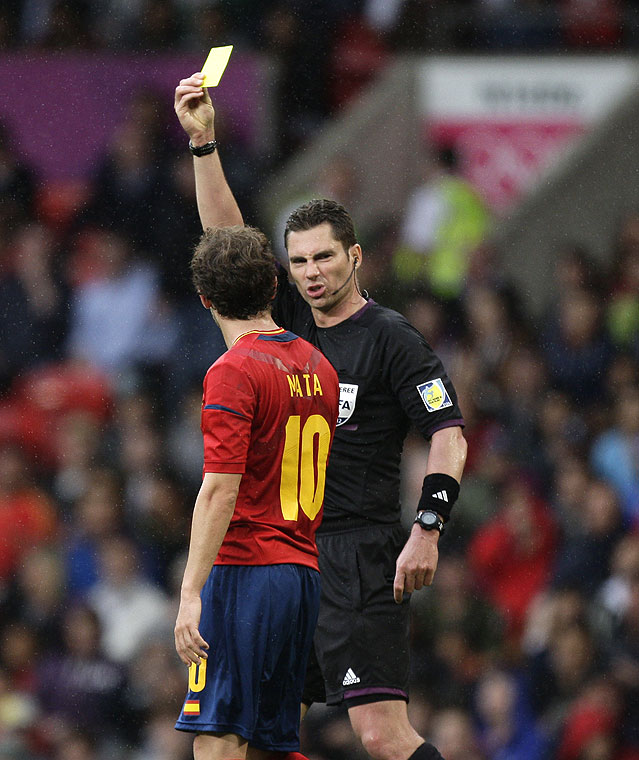 (c) ZIMBIO
Contrary to previously issued news in diverse forms of media which said Bahraini Nawaf Shukralla would have been in charge of this year's AFC Champions League final, AFC has appointed Aussie Benjamin Jon Williams (r.) of Canberra to take control over Saturday's clash between Hyundai Ulsan (KOR) and Al Ahli (KSA).
The 1977 born teacher from the Australian capital will be accompanied by Luke Brennan and Paul Cetrangolo as assistant referees, while Stebre Delovski will function as fourth official.
Williams, currently being on the short list for 2014 FIFA World Cup, also acted at 2012 Olympic Games where he oversaw two matches (Mexico - Gabon and Spain - Morocco).
His common assistant referees, Matthew Cream and Hakan Anaz, who are normally accompanying him, also on the prospective World Cup list, are absent due to a FIFA meeting at Zurich that is attended by assistant referees from AFC, CONCACAF, CONMEBOL and OFC zone.
Continue Reading...
November 4, 2012
UEFA has published the 24 referee appointments for the coming fourth matchday of UEFA Europa League.
Finally back at the international whistle: István Vad (HUN)
Continue Reading...
November 3, 2012
UEFA has issued the first referee appointments for the next UEFA Champions League matchday 4 played next Tuesday, Wednesday.

A talent will control Munich's match: Ovidiu Hategan (c) ZIMBIO
Continue Reading...
November 1, 2012
After having met on 17th and 18th October, FIFA's referee committee has appointed seven trios to take control over December's 2012 Club World Cup which will be, like in the past years, hosted by Japan.  
Although they are competitions solely joined by clubs and not by national teams, these annual Club World Cups are actually of fundamental relevance for the selection of the 2014 World Cup officials, since the main condition the chosen referees and assistant referees had to fulfill is being on the short list for the 20th World Cup. In addition, it is certainly an opportunity for these referees to show their skills and collect experiences in an international competition. However, it may be questioned to what extent a tournament with only eight matches allows that at all...
The most meaningful circumstance of this competition is that
FIFA will test their recently approved Goal-Line Technology
for the first time ever in an official competition.
Besides, it is rumoured that the officials who will attend this year's Club World Cup could be excluded from the youth World Cups and Confed Cup in 2013. But now, let's talk about those who have been selected.
Continue Reading...
FIFA has selected the referees and assistant referees to take charge of 2012 Club World Cup in Japan from 6-16 December 2012. Six trios - one of each confederation - will attend the tournament accompanied by a reserve trio from Asia.
Djamel Haimoudi (2nd left) is among the CWC officials (c) GETTY/FIFA
Continue Reading...